Will is very proud that Petley- Jones Gallery has offered him the chance to share his world with a wide audience.
Former leader of The Irish Rovers, Will Millar has returned to his first creative love of painting.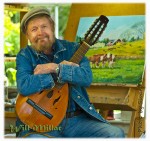 In this he is a voyager into the Ireland of his youth, portraying the country in the 1950's. Before glass supermarkets and traffic jams clogged up small villages. Before, as he puts it, "Ireland rushed into the Euro world like a Celtic tiger"  more…
---

Fall is a good time to think of framing. Time to collect your holiday photos or travel acquisitions and figure out how they are going to be best remembered.
Artifacts, photographs and fine art all need to be preserved and enjoyed. Custom archival framing is designed to accomplish both.
Drop by and see what we have to offer. The staff at Petley Jones Gallery has the framing knowledge and experience that is backed up by quality materials in a vast selection of styles.